Three People Were Arrested in Georgia for Beating a Detainee
Three Camden County Sheriff's Office personnel in Georgia have been arrested in connection with the September assault of a Black man imprisoned at the Camden County Detention Center.
Separate investigations into the beating of 41-year-old Jarrett Hobbs have been completed by the Georgia Bureau of Investigation and the Camden County Sheriff's Office.
"Mason Garrick, Braxton Massey, and Ryan Biegel have been charged with Battery of an Inmate and Violating the Oath of Office," the sheriff's office said in a news release. Garrick, Massey, and Biegel were also discharged by the sheriff's office prior to their arrests.
All three have been arrested and are being held at the Camden County Public Safety Complex.
According to the announcement, two other employees face disciplinary proceedings.
Last Monday, Hobbs' family and attorneys demanded that the five workers implicated be fired and charged, as well as that the US Justice Department investigate the sheriff's office.
"I appreciate the Georgia Bureau of Investigation's assistance in this vital situation," Camden County Sheriff Jim Proctor stated. "The arrest of these personnel brings the criminal inquiry to a close."
Biegel had been with the sheriff's office for three years, Garrick had been there for 18 months, and Massey had been there for six months.
Three videos have been released.
Hobbs' attorneys published two recordings of the event last week, and shortly before a news conference, they released the third video with audio that partially revealed the altercation between Hobbs and detention center employees.
The footage appears to be from the facility's CCTV system and was obtained as part of a separate judicial process involving Hobbs in North Carolina.
The first two videos, which do not contain audio, appear to be from the jail's surveillance system as well. Hobbs was seen alone in a cell at the correctional center in the videos.
Five staff can be seen entering Hobbs' cell in one video, with one holding Hobbs about the neck. Inside the cell, there was a battle. Soon, at least four employees are seen wrestling with Hobbs, with several punching him in the head.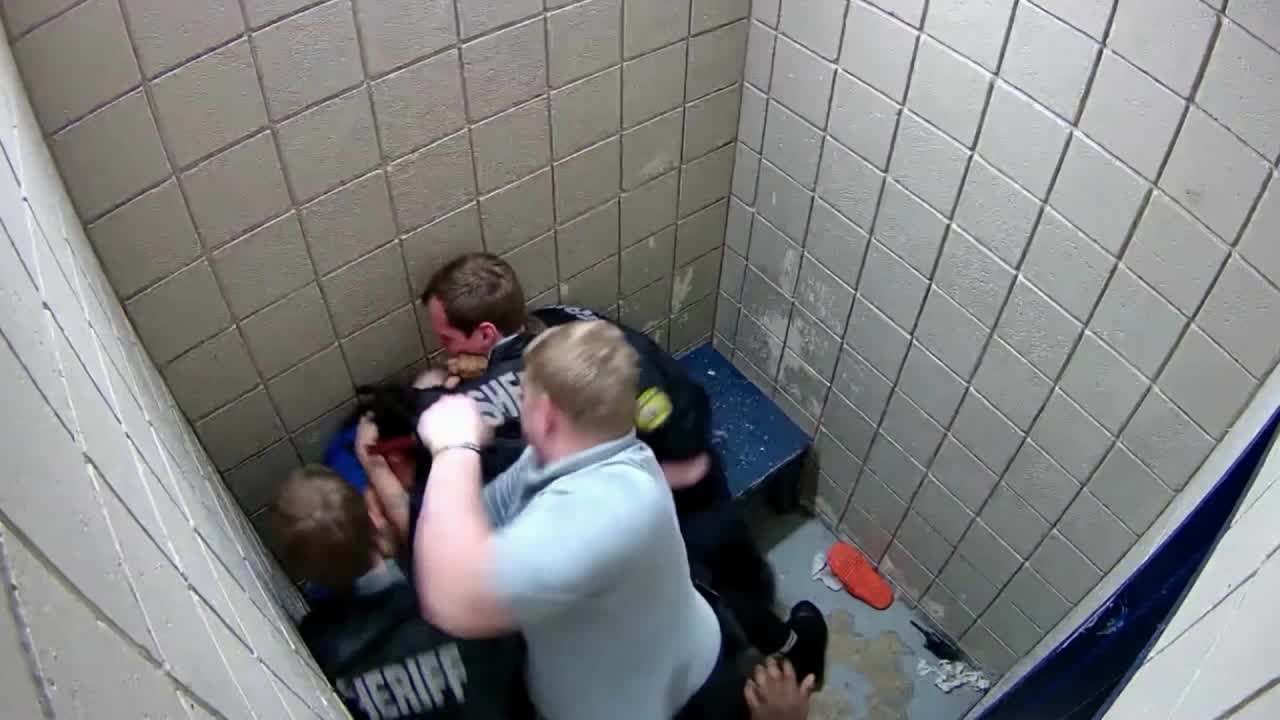 Hobbs' attorneys produced a second video in which he is brought out of the cell and employees wrestle him to the ground. At least one employee appears to kick Hobbs in the footage. Four of the five employees look to be White, with the remaining employee appearing to be Black.
Two powerful bangs ring through the jail corridor just seconds after the third video begins. When the sounds are heard, an employee who appears to be going away from Hobbs' cell turns back and vanishes around the corner near Hobbs' cell, which is not seen in the frame.
Must Check:
During a Party in Florida, a Woman Adds Alcohol to Her Baby's Feeding Bottle and is Arrested
A Man With Guns and a Nazi Armband Was Arrested at Penn Station for Threatening NYC Synagogues
Four employees are then seen approaching Hobbs' cell. The cell door opens, and the staff and Hobbs emerge around 30 seconds later, plunging into the corridor. A loud cry can be heard.
Despite the fact that much of the audio is muted and unclear, one employee can be heard saying "stop resisting!" "Man, I'm sitting down, y'all stop…" shouts Hobbs as staff rush around him, seeking to detain him.
At one point, an employee requests that Hobbs "give us the other hand."
Hobbs screams back, "How the f**k, I'm on one leg…"
One of the employees can be heard saying "let go" as they struggle to restrain Hobbs. It is then followed by Hobbs and the employees arguing about something in his hand.
Just before the personnel take control of Hobbs and place him in a restraint chair in his cell, Hobbs adds, "it's paper."
After extracting Hobbs from his cell while still strapped on the chair, the footage shows at least three employees speaking with him around eight minutes later.
They appear to be speaking with Hobbs in the silent footage; one employee checks his handcuffs before placing him back in the cell.
Hobbs is Being Held in a North Carolina jail
Hobbs violated his probation in a federal case out of North Carolina by being in Georgia, where he was charged with speeding, driving on a revoked or suspended license, and possession of a prohibited substance, according to Hobbs' human rights attorney, Harry Daniels.
In court records on his probation revocation in North Carolina, his probation officer, F.J. Carney, who was not present at the Georgia detention center, provided a narrative of what happened at the Camden County jail.
"Jailers heard a tremendous thumping from Defendant's holding cell when Defendant was in custody at the (sheriff's office) complex in Woodbine, Georgia."
"Defendant was apparently kicking his cell door and was instructed to cease by jailers after previously being warned to stop," according to the court record.
"Officer Carney testified that Defendant evidently kept kicking, which resulted in the jailers approaching him, giving him verbal directions, and putting his hands behind his back."
However, the defendant allegedly refused to comply and told the jailers, 'I ain't doing sh*t.' "Defendant tightened up, pulled away, and a physical conflict between Defendant and jailers began after the jailers apparently proceeded to give him orders and approached him," the statement added.
Read More:
Sweden Arrests Two More Persons on Suspicion of Spying
According to State Media, a Factory Fire in Central China Has Killed 38 People
"Defendant resisted the jailers, according to Officer Carney, and then hit one deputy in the face while punching another deputy in the side of his head." As a result of the encounter, one deputy suffered a bruised eye and a broken hand.
Officer Carney did write in the report that "Defendant was struck in the head by one of the correctional officials, however, Officer Carney is uncertain of the exact sequence of events," it claimed.
A federal judge revoked his probation earlier this month in a final hearing but rejected a violation connected to the arrest and allegations of battery, assault, and obstruction against Camden County jail personnel leveled by Carney.
According to federal court documents, Hobbs admitted to three other offenses for driving infractions, drug possession, and failing to notify his probation officer of travel.
According to a spokeswoman for the US Attorney's Office, the office "doesn't disclose active investigations or whether they exist."
Hobbs is still being held in North Carolina, according to his counsel. "He struggles every day," he remarked during the press conference.